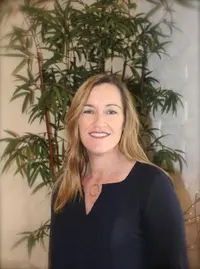 Dr. Jennifer Stevens decided to become a chiropractor after she was involved in a car accident. Approximately six months after her auto accident she began to experience vertigo/dizziness. She went to various medical doctors without any relief. She tried a chiropractor and after a few treatments her vertigo was gone. She then decided to become a chiropractor.
She attended UCSB where she received her BA in Biology. She then went to Los Angeles College of Chiropractic where she graduated on the dean's list and cum laude of her 1997 class. She worked for two years at Vista Chiropractic Center and from there bought a practice in the village of Carlsbad. Carlsbad Chiropractor-Dr. Jennifer Stevens has been the successful doctor of this practice for the past 18 years.
As a Chiropractor with experience, Dr. Stevens is committed to promoting optimal health and well being of patients. She believes in honestly and gently treating her patients pain and then once they become pain-free encouraging them to lead a healthier lifestyle through maintence care to keep their spine in optimal health and free of spinal misalignments.